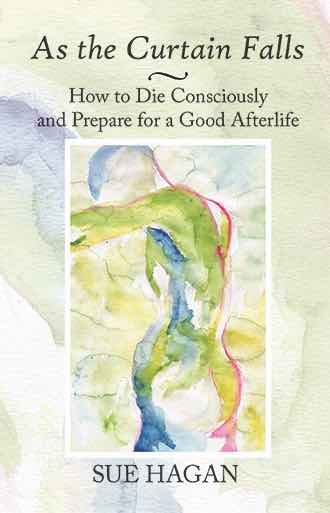 Sue Hagan's As the Curtain Falls thoughtfully investigates the spiritual aspect of dying and offers a comforting message to those facing death. Drawing from diverse religious and spiritual sources, this compact book addresses common spiritual questions that the dying may ask, shares wisdom from various traditions and presents it in contemporary easy-to-understand language.
This book supports those who are saying farewell to their lives while trying to make peace with (or make sense of) the spiritual meaning of their lives. This book arose when Sue realized that many of her generation were experiencing family deaths while lacking religious dogma or philosophical principles to help them get through or even understand these painful times.
In addition, nowadays much attention is paid to physical end-of-life issues such as medical aid in dying without addressing the spiritual context surrounding death. In this book, Sue explains what she believes happens when a person dies, and offers words of comfort to anyone going through the dying process or those left behind. While not a book about grief, As the Curtain Falls explains in gentle and tender terms how our loved ones move into a different realm separate yet eternally connected to us.
Unlike many books on the market on the topic of dying, this book is short and to-the-point. It does not try to persuade or proselytize. It was written to address readers directly, assuming that the readers find themselves facing end of life issues. The core goal of the book is to provide comfort and a roadmap for this final journey.
---
"I found it very practical and down-to-earth, expressing profound spiritual truths in everyday language that every reader can relate to. I thought your description of the variety of emotions people may feel as they approach death was particularly clear, and your guidance to focus on kindness and compassion amidst the grief and sadness was particularly helpful, as was your "normalizing" dying by viewing it as just one more challenging transition in a lifetime of challenges."

–Bruce Greyson, M.D.
Professor Emeritus of Psychiatry and Neurobehavioral Sciences
University of Virginia School of Medicine
---
"This is the book I wish I had as a hospice social worker. Sue has articulated and illuminated her personal experiences to assist all in this life's eventual last journey. I highly recommend this book for all professionals, families and individuals dealing with end of life issues, spiritually and beyond."

–Mary Knecht, LCSW
Manager Social Services (retired)
Hospice by the Bay
---
"I've spent my life not only trying to avoid death but even thinking about death. No wonder that I resisted opening As the Curtain Falls. But thankfully I finally found the courage to read it. Rather than frighten me, this book offers comfort while making the task of confronting the unknown fascinating. While it's tempting to sleepwalk on the journey that none of us can avoid, Sue Hagan lays out the reasons for waking up, for dying consciously."

Murray Suid
Screenwriter
---